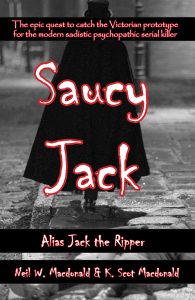 by Neil W. Macdonald and K. Scot Macdonald 
In the fall of 1888 the most famous serial killer in history lurked in the London fog. His vicious attacks on women left crime scenes that forever haunted the minds of those who saw them and filled them with a single-minded resolve to apprehend the murderer. They never did. Although the murderer is known throughout the world as Jack the Ripper, the name he used on some of his taunting notes to the press and police tells far more psychologically about his demented personality: Saucy Jack.
Available in paperback, in all e-formats and on Kindle today.