by K. Scot Macdonald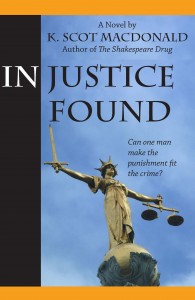 Justice or Injustice?
When a drug company's stock plummets on SEC charges of wrongdoing, Los Angeles mediator Arden 'Never-Fail' Jeffries loses $126,000. He flees work early only to surprise a trio of burglars at his home, who knock him out.
Arden faces the daunting challenge of seeking to bring the CEO and the burglars who destroyed his life to      justice.
In danger of losing his family and his freedom, not to mention his chance of ever retiring, Arden soon must decide just how much he is willing to pay for justice.
Available now in paperback, all e-book formats and Kindle.
Click for Character Biographies, a Reader's Guide and an Author Biography.