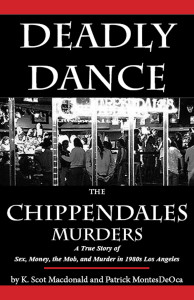 by K. Scot Macdonald and Patrick MontesDeOca
Sex, Money and Murder. Basis for the Hulu series, Welcome to Chippendales, starring Kumail Nanjiani, Murray Bartlett, Annaleigh Ashford, Dan Stevens, and Juliette Lewis. In 1987 a heroin addict murdered an Emmy Award-winning choreographer in Manhattan. Then a wealthy LA surgeon and his teenaged son were targeted. In 1991, an out-of-work redneck flew to London with cyanide to poison three members of a male exotic dance review. If the poison didn't work, he was told to use a hammer to beat them to death. Who was behind these seemingly unrelated horrific crimes?
Deadly Dance tells the fascinating story of Steve Banerjee, founder and owner of Chippendales. In the post-pill, pre-AIDS, sex-filled LA club scene of the 1980s, celebrities, desperate housewives and wild bachelorettes converged on one place: Chippendales—and behind it all was arson, the Mob and murder.
Read the true story behind the hit Hulu limited series, Welcome to Chippendales.
Buy it today as a paperback, kindle or in any e-book in any format.