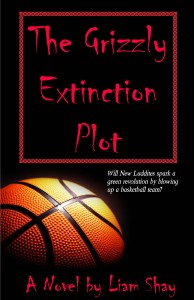 An Entertainment:
The Grizzly Extinction Plot
by Liam Shay
Anti-technology revolutionaries are plotting to blow up the Vancouver Grizzlies basketball team, which is having the winningest season in NBA history, in their new state-of-the-art arena. Only a romance-novel addicted, community college English professor, Sebastian Gianninni, stands in the path of the ruthless New Luddites.
With the help of his Professor Uncle Bill, a statistician focused on perfecting his Grand Unifying Theory of Horse Racing; a custodial engineer who fences (with stolen goods, not rapiers); and a mother/daughter team of amorous neighbors, Sebastian must foil the plot on land, at sea and on the basketball court, all while attempting to rekindle the passion in his dangerously cooling marriage.
Available now in any e-book format, paperback and Kindle versions.
A brief history of teams that moved.